Hello Poets and Poetry Lovers
This is one exciting issue of Hyperbole. In this issue I am featuring my first interview, with Romantic Poet of the Internet William F. DeVault. You can only read this interview here in Hyperbole. I have the exclusive! And it doesn't appear anywhere else on World Class Poetry properties.
And if that isn't enough, I've made sweeping changes to the World Class Poetry Toolbar this issue. Keep reading. You're going to love it!
Table of Contents
Poetry Video Of The Week - Right Set Of Lips
World Class Interview: William F. DeVault
World Class Poetry Toolbar Updates
American Life in Poetry by Ted Kooser
Book Review: W Is For War
Updated World Class Poetry Pages
New World Class Poetry Blog Posts
Poetry Book Of The Week
Are You Subscribed?
World Class Poetry Networking
Poetry Video Of The Week -
Right Set Of Lips
by William F. DeVault
If you can't click the link or watch the video, you can find it here.
World Class Interview:
William F. DeVault
Romantic Poet Of The Internet
Allen: OK, William, thanks for your patience and thanks for the interview. Five questions:
Have long have you been writing poetry and do you have any favorite poets that inspire you? Who are they?
William: I have been writing poetry since I was 8, and I have some poets that inspire me, mostly Byron, Shelley, and Poe, although I am also a great fan of Tagore and there are many fine lyricists working in popular music today who are unquestionably gifted poets.
Allen: Yahoo! named you Romantic Poet of the Internet in 1996. How did that come about?
William: I had just slipped into my first Los Angeles exile during my divorce and the whole Panther Cycles brouhaha. I sat down one weekend and built a website for some of my works, named it "The City of Legends" and submitted it to several site indexes, including Yahoo. Two weeks later, they labeled me the "Romantic Poet of the Internet". No one was more surprised than me, but an old friend said "never waste a good sobriquet".
Allen: I like the video contest idea. How did you come up with that and what do you hope to accomplish with it?
William: Several people had taken recordings of my poems and used them as background to videos on YouTube. I decided to encourage the use and set up the contest. I'm offering a full bookshelf of my works and $100.00 cash to the best video that is built around one of my recordings. The full rules are available on my blog, www.cityoflegends.com, under TVC2008.
Allen: Have you had any poems published in print or has your publishing experience strictly been online?
William: I have been published in many literary journals, The Rose's Hope, B*E*M, Imagine, to name a few...dating back to the 70's...but I always hated the demeaning process of submitting and waiting, like you were begging for acceptance. With the advent of the web, most of the time, editors and publishers approach me. It is less traumatic.
Allen: What does it take to be a successfully published poet in the 21st century?
William: Moxie, passion, patience and the willingness to stand ass-deep in the sewer that the Web often is. I can write a poem this morning and by noon it has been read on every continent on Earth. Vision helps. Set up a website or a blog, build a base of readers, ignore the jackals.
One to grow on: Would you consider self-publishing for working poets today? How has the Internet changed how poets write and publish and how has it been a force in your own publishing ventures?
I think Publication on Demand has empowered and liberated poets. A lot of what gets published is dreadful, but the poet gets full creative control, the final product is their vision, not a re-imagined echo provided by an editor and an art department. That's why I made the transition to POD a few years ago...yeah, I don't have the marketing muscle a "mainstream" publisher lends, but what you see, hear, read, and buy is me.
The Web has democratized poetry over the last two decades as the digital renaissance has set in. No longer is publishing merely the sport of well-healed publishers in New York, or the student-subsidized vanity presses we call University Presses. You put it out there and you find your audience.
Allen: Thanks, William.
Enjoy another poetry video from William F. DeVault, Romantic Poet of the Internet:
If you can't view the video then click here to watch it at YouTube.
Who is William F. DeVault?: William F. DeVault was born in Greenville Army Hospital in Greenville, South Carolina, a city he has not seen since he was six weeks old. He started writing poetry at the age of 8. His website "The City of Legends" earned him the accolade of "The Romantic Poet of the Internet" from Yahoo in 1996 while he was hosting "The Romantic and Erotic Poetry Group" and "The Passionate Craft" chats for America Online's Writers Club.
William F. DeVault has published 10-1/2 books, five CDs of his works, maintains an active Web identity through three blogs and various websites, and broadcasts via his own Radio City of Legends. His podcasts are available on Apple's iTunes Music Store and Live/365 Internet radio. He mentors young poets as long as they dedicate themselves to what he refers to as "the religion of poetry". He has been meme'd on national television, read on every continent on Earth, and has given his heart even knowing its fate is to crack and bleed. You can read William F. DeVault's blogs at http://amomancer.blogspot.com/ and http://cityoflegends.com/.
World Class Poetry Toolbar Updates
This week we have new blogs, new online publications that you can read from the toolbar, and a new section for RSS news feeds. The news feeds that were at the bottom of the blogs menu are now under the RSS News menu. The privacy features can be found in the dropdown menu at the very end of the toolbar. Just click on the >> symbol.
New blogs this week include:
Belinda Subraman
Amomancer
City of Legends
New publications added this week:
Abalone Moon
Arch
BabelFruit
Juked
Opium Den
Raving Dove
Spindle
Wild River Review
If you don't have it yet, it's time to get it. The World Class Poetry Toolbar just keeps getting better!
American Life in Poetry: Column 168
BY TED KOOSER, U.S. POET LAUREATE, 2004-2006
So often, reading a poem can in itself feel like a thing overheard. Here, Mary-Sherman Willis of Virginia describes the feeling of being stilled by conversation, in this case barely audible and nearly indecipherable.
The Laughter of Women
From over the wall I could hear the laughter of women
in a foreign tongue, in the sun-rinsed air of the city.
They sat (so I thought) perfumed in their hats and their silks,
in chairs on the grass amid flowers glowing and swaying.
One spoke and the others rang like bells, oh so witty,
like bells till the sound filled up the garden and lifted
like bubbles spilling over the bricks that enclosed them,
their happiness holding them, even if just for the moment.
Although I did not understand a word they were saying,
their sound surrounded me, fell on my shoulders and hair,
and burst on my cheeks like kisses, and continued to fall,
holding me there where I stood on the sidewalk listening.
As I could not move, I had to hear them grow silent,
and adjust myself to the clouds and the cooling air.
The mumble of thunder rumbled out of the wall
and the smacking of drops as the rain fell everywhere.
American Life in Poetry is made possible by The Poetry Foundation (www.poetryfoundation.org), publisher of Poetry magazine. It is also supported by the Department of English at the University of Nebraska-Lincoln. Poem copyright (c) 2007 by Mary-Sherman Willis. Reprinted from "The Hudson Review," Vol. LX, no. 3, (Autumn 2007), by permission of Mary-Sherman Willis. Introduction copyright (c) 2008 by The Poetry Foundation. The introduction's author, Ted Kooser, served as United States Poet Laureate Consultant in Poetry to the Library of Congress from 2004-2006. We do not accept unsolicited manuscripts.
Book Review: W Is For War
Respected poets can sometimes make mistakes. For George Held, W Is For War is the whopper.
It's a shame because I've heard him read. In fact, I've heard him read some of the poems in this chapbook, and I wasn't much more impressed with the oral experience as I am with the reading.
Updated World Class Poetry Pages
This week's updated page is the poetry book reviews page. Be sure to check out the new review of George Held's chapbook W Is For War.
Poetry Book Of The Week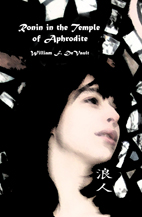 The poetry book of the week this week is Ronin in the Temple of Aphrodite by William F. DeVault.
The astonishing manifesto of romanticism at the verge of disillusionment! Raw, intense, emotional and literate as only one of the fathers of the Digital Renaissance can conjour. 61 works that capture the struggle of passion and faith in the soul of the poet.


Buy your favorite poetry books at the World Class Poetry Bookstore.
New World Class Poetry Blog Posts
This week's new blog posts include:
Are You Subscribed?
World Class Poetry Networking
my 'read' shelf:
Check Out My Facebook Profile
Call For Submissions!
Submit your poetry articles to World Class Poetry. Use the WCP article submission form.
Toodles
Allen Taylor
the poet